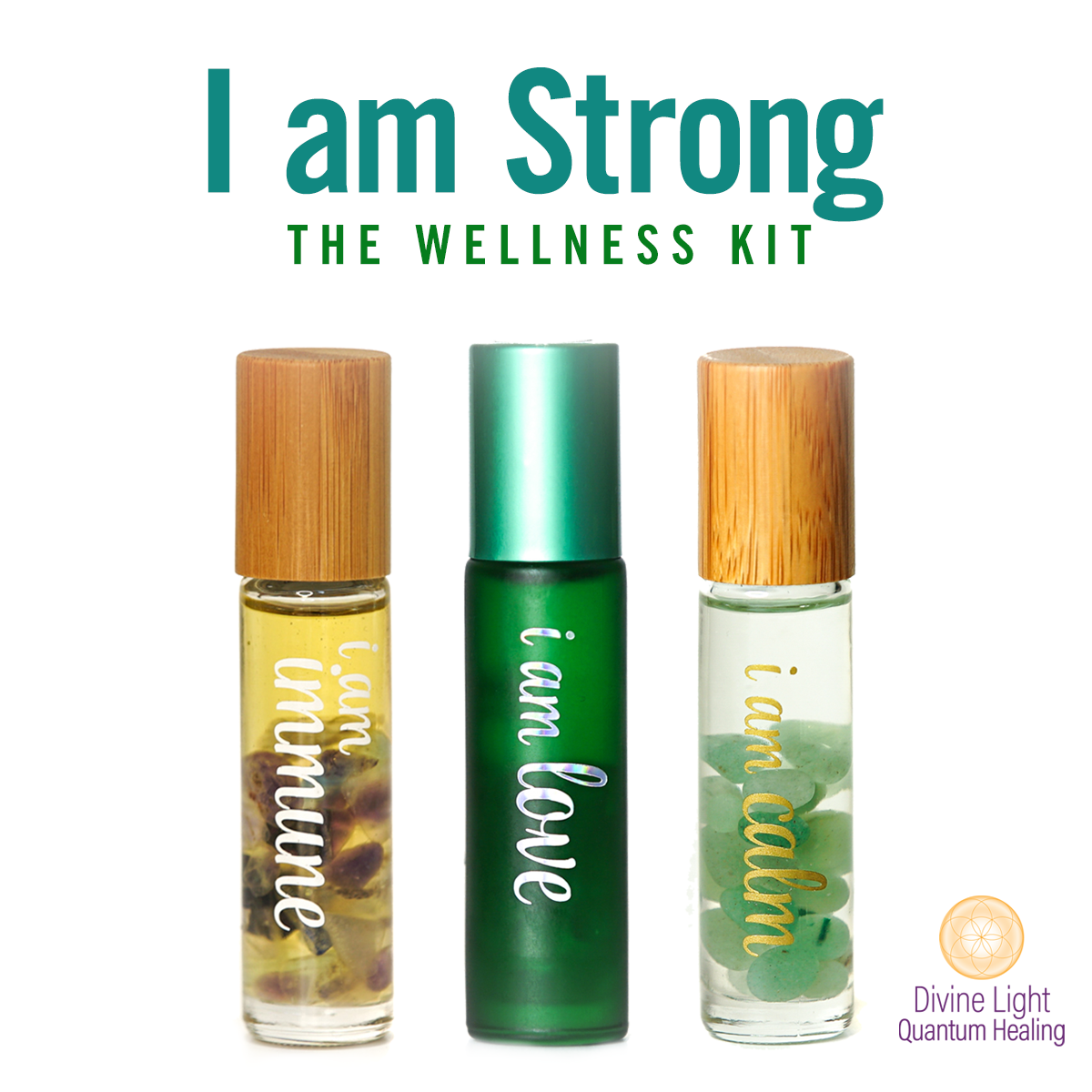 I am Strong: Mind, Body, Spirit Kit
SKU KITSTRONG
Product Details
I am Strong: Mind, Body, Spirit Kit
With the additional stress and anxiety that has been happening in our world, we need extra support and tools to help calm our nervous system down, keep our immune system up and keep us focused on love. Introducing this trio of I am Calm, I am Immune, and I am Love. You get one bottle from each of our three lines; emotional support, body support and chakra balancing.
I Am Calm
Supports calmness, peace of mind, feeling fulfilled
Symptoms: frustration, stress, drudgery
This magical roller bottle of pure grade essential oils includes roman chamomile and lavender. It also contains green aventurine gemstones both in the bottle and in the rollerball itself! The healing properties of both the oils and the crystals are aligned to maximize your healing potential!
Green Aventurine is a comforter, heart healer, and harmonizer. It brings things back into control and is useful in malignant conditions. It settles nausea and dissolves negative emotions and thoughts. An all-round healer, bringing in well-being and emotional calm.
Roman Chamomile: The Oil of Spiritual Purpose
Encourages feeling connected to and supported by divine helpers and guides, and calms insecurities about following one's spiritual path
Removes purposeless, drudgery, frustration
Lavender: The Oil of Communication & Calm
Encourages calm, emotional honesty, open communication, peace of mind
Removes blocked communication tension, feeling unseen or unloved
All blends are made with CPTG® #doTerra essential oils. Use topically as needed.
I am Love (Heart Chakra)
Supports Self-love, romantic love, feeling loved, compassion
Symptoms: lack of self-love or compassion, low self-esteem/worth
This roller bottle of pure grade essential oils includes peppermint, geranium, green mandarin and ylang ylang. It also contains rose quartz crystals both in the bottle and in the rollerball.
Peppermint: The Oil of a Buoyant Heart
Peppermint brings joy and buoyancy into the heart and soul. It invigorates the body, mind, and spirit and reminds individuals that life can be happy, and they don't have to be controlled by fear. It lifts an individual out of their emotional trials for a short reprieve.
Geranium: The Oil of Love and Trust
Geranium is the oil of love and trust, however it could be called "the emotional healer". Geranium restores confidence in the innate goodness of others and in the world. It facilitates trust, especially when individuals have lost trust in others due to difficult life circumstances. When there has been a loss of trust in relationships, geranium encourages emotional honesty, love and forgiveness. Geranium aids in healing the broken heart, and encourages emotional honesty.
Green Mandarin: The Oil of Childlike Perspective
Mandarin is one of the parent fruits of all modern citrus varieties and is considered to be one of the sweetest of all citrus fruits. As such, mandarin essential oil offers a unique perspective: it invites individuals to see life through childlike eyes, appreciating the sweetness, wonder, and innocence in life. Children are not as easily setback our weighed down by the cares of life and they quickly move on and bounce back after encountering challenges. Red Mandarin invite adults to embrace this is healthier, more resilient way of existing.
Ylang Ylang: The Inner Child
Ylang ylang is a powerful remedy for the heart. Modern day society honors and reveres the mind over the heart. Yet the heart, with its intuitive ways of receiving information is an essential part of the soul. Ylang ylang reconnects individuals with the inner child and the pure simple ways of the heart. It encourages play and restores a childlike nature and innocence. In assists in accessing intuition or "heart knowing", and it's a fantastic support in age regression work and emotional healing. It also assist individuals and releasing bottled-up emotions such as anger and sadness.
Application: Apply to your heart area, chest, or wear as your personal fragrance on your pulse points. Use topically as needed.
I am Immune
Immune system booster and support
Use for an immunity boost or at the start of a cold or virus*

This roller bottle of pure grade essential oils includes oregano, On Guard, and rosemary essential oils. It also contains rainbow fluorite gemstones both in the bottle and in the rollerball itself. The healing properties of both the oils and the crystals are aligned to maximize your healing potential!
Rainbow Fluorite is a powerful healing tool, dealing with infections and disorders. It benefits teeth, cells, and bones and repairs DNA damage. It is powerful against viruses, especially as an elixir. Fluorite regenerates the skin and mucous membranes, particularly in the respiratory tract. Rainbow Fluorite dissipates emotional trauma, grounds excess energy and it is an effective auric, chakra and mental cleanser. These pretty green and purple stones draws off negative energies and stresses and will reorganize anything in the body that is not in perfect order.

Oregano: The Oil of Humility & Non-Attachment
Oregano has long been used in traditional health practices for its ability to boost the immune system, cleanse and purify, and offer powerful antioxidant. Oregano cuts through the fluff of life and teaches individuals to do the same. It removes blocks, clears negativity and cuts away negative attachments. Oregano is a powerful oil and may even be described as forceful or intense.
Properties: antibacterial, antifungal, anti-parasitic, antiseptic to the respiratory system, antiviral and immune stimulant.
On Guard: The Oil of Protection
This combination of oils is generally used to shield individuals from bacteria, mold, and viruses. This blends protective properties, however, extend beyond the physical level by eating individuals in boarding off energetic parasites, domineering personalities and other negative influences. On Guard strengthens one's immune system, which governs the ability to defend against attacks from physical pathogens and negative energies.
This blend contains wild orange, clove, cinnamon, eucalyptus, and rosemary essential oils. Properties: antibacterial, antiviral, antifungal, protection and immune stimulant.
Rosemary: The Oil of the Knowledge & Transition
Rosemary oil works on the immune respiratory and nervous systems. Historically the rosemary plant was regarded as sacred by many civilizations. It was used as a fumigant to help drive away evil spirits and to protect against plague and infectious diseases. Rosemary aids in times of transition and change. When a person is having a difficult time adjusting to a new house, school, or relationship, rosemary oil can assist.
Properties: analgesic, antibacterial, anti-cancer, antifungal, anti-infectious, anti-inflammatory, anti-oxidant and expectorant.
All blends are made with CPTG® #doTerra essential oils and pure coconut oil.
More Information

Always avoid the eye area, open wounds and wash hands thoroughly after use and avoid touching or rubbing your eyes after handling the oils. Always do a spot test first if you have sensitive skin.
*These statements have not been evaluated by the Food and Drug Administration. This product is not intended to diagnose, treat, cure, or prevent any disease.
Save this product for later